Assembly Guide
This assembly guide is intended to help you build and install your abstracta units.
It is available to download in PDF format here:

Assembly Guide PDF (380 KB)
BEFORE YOU BEGIN

Check Components

Before beginning to assemble, compare the packing slip to the components received. Do not mix components. Line up your tubes in successive lengths. A unit sketch drawing is attached if you have ordered a stock or custom design.

Recommended Tools


Nylon or rawhide mallet
Short piece of 2" x 4" board
(to protect the floor)
Unit sketch instruction sheet
Safety glasses
Protective gloves.
Step 1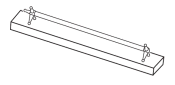 Insert connectors into tubes making sure the connectors are square to each other.

Follow this procedure through-out assembly.



Step 2



Consider all vertical members of any structure a sort of 'ladder' and assemble them first.




Step 3



When all ladders and complete, lay an end ladder on the floor and hammer in the first set of horizontal tubes.






Step 4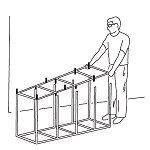 Hammer in ladder number two, slanting the ladder slightly to insert the first pair of connector arms into the first pair of tubes by about 1/4", then insert the second pair of connector arms into the second pair of tubes and continue until all connector arms are loosly inserted into the tubes.

Next, hammer all the connectors half way and finally go over them once more, hammering them in all the way. This progression it to avoid stressing the connector arms.



Step 5



Hammer in the second set of horizontal tubes. Caution: use a small piece of wood to butt-up against when hammering in tube in 'off-set' section (see illustration). This is to avoid damaging connectors and tubes. Add ladder three and turn the fixture right side up, so you can hammer into the last set of horizontal tubes, again using the small piece of wood to butt-up against in the 'off-set' section.



Step 6


Hammer in the end ladder and carry the display over to its proper place. Attach shelf brackets and any accessory parts before installing shelving.